December 08, 2021
Matthew Pitt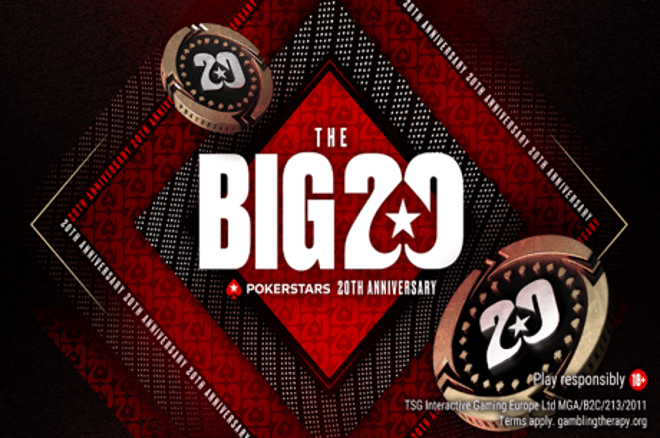 The Big 20 Rewind festival concluded at PokerStars on December 7 with the crowning of the Big 20 Finale champion. The $55 buy-in tournament featured an incredible $5 million guaranteed prize pool, which was almost hit with 96,192 players buying in. When the dust settled on the final table, Romania's "andreeadeea" was the last player standing. Their reward? A mighty cool $438,499.
The Big 20 Final Final Table Results
Place
Player
Country
Prize
1
andreeadeea
Romania
$438,499*
2
IRKPOKERMAN
Russia
$428,438*
3
JC CRAYFISH
United Kingdom
$269,285
4
lilperG
Denmark
$197,621
5
M241M
Russia
$145,029
6
AKA_Yuppie
Russia
$106,433
7
Guialves27
Brazil
$78,108
8
Leonardsong
Canada
$57,321
9
cabamuzic
Venezuela
$42,067
*reflects a heads-up deal
PokerStars Reveals New Dates for EPT Prague; Add EPT Online December 8-20
Seventy-two players returned for the final day's action, each sharing the common goal of becoming the tournament's champion. It is easy to see why they wanted to win because the top prize was $500,000. The least anyone could take home at the final table was $42,067, a healthy return for a $55 buy-in tournament.
"cabamuzic" was the first casualty of the final table. With blinds of 2,500,000/5,000,000/600,000a, "M241M" opened to 15,000,000 with king-ten from early position, cabamuzic three-bet-shoved for 31,066,302 on the button with pocket eights. "AKA_Yuppie" woke up in the big blind with pocket queens and called. M241M folded, leaving AKA_Yuppie to win the pot when the five community cards ran without an eight in sight.
The player known as "Leonardsong" was the next player out of the door. "lilperG" min-raised to 12,000,000 in middle position with pocket aces, and instantly called when Leonardsong moved all-in for 17,170,018 with queen-ten of clubs. Leonardsong flopped trip tens and looked set for a double-up, but an ace on the river gifted lilperG a full house and the pot.
The last five-figure prize went to Brazil's "Guialves27" who was the overwhelming chip leader with seven players remaining. The Brazilian lost a huge pot with trip threes against a turned club flush, and never fully recovered. Their final hand saw them rip in 45,192,102 (5.6 big blinds) with pocket eights on the button and lose to the king-jack of andreeadeea courtesy of a king on the river.
Locking Up Six Figure Prizes
Russia's AKA_Yuppie fell by the wayside in sixth place and reeled in a $106,433 score. The action folded to andreeadeea in the small blind, and they open-shoved for 13.5 big blind effective with ace-jack. AKA_Yuppie called with king-queen and could not find any of his outs.
Fifth-place and $145,029 went to M241M. "IRKPOKERMAN" min-raised to 20,000,000 on the button with pocket sevens, M241M responded with a three-bet to 76,250,000 with pocket fives in the small blind, which left them less than 50,000,000 chips behind. lilperG folded king-queen in the big blind, only for IRKPOKERMAN to move all-in; M241M called off the chip they had behind. IRKPOKERMAN turned a full house to reduce the player count by one.
Danish grinder lilperG was the next player heading to the cashier's desk. They pushed all-in with king-ten for 7.6 big blinds on the button, and andreeadeaa called the shove with pocket fours. It was off to the races! andreeadeea's fours more than held because they improved to an unlikely eighth-high straight by the river.
New PokerStars Rewards Program Awards Up To 65% Cashback
Heads-Up Set; Deal Struck
Each of the final three players were now guaranteed $269,285, which is unheard of on a $55 buy-in tournament. It was the United Kingdom's "JC CRAYFISH" who secured this sum. andreedeea min-raised to 24,000,000 on the button with ace-trey with the ace of hearts, and JC CRAYFISH called in the big blind with ten-eight, with the ten of hearts. The eight-four-nine all-heart flop saw all the chips go flying into the middle. A six on the turn kept JC CRAYFISH ahead but a heart on the river improved andreeadeea to the nut flush. Amazingly, JC CRAYFISH's largest score before this event was a mere $84!
IRKPOKERMAN went into heads-up holding a 863,502,643 to 579,377,357 chip lead. andreeadeea asked their opponent if they wanted to look at a potential deal because there was a near $140,000 difference between first and second place payouts. The heads-up duo did strike a deal, and play resumed.
The momentum shifted in andreeadeea's favor and they had their opponent on the ropes before the final hand occurred.
IRKPOKERMAN limped in for 16,000,000 with queen-six, andreeadeea raised to 48,000,000 with ace-jack, and IRKPOKERMAN called. andreeadeea flopped trip jacks and was a 99.7% favorite to win the hand. andreeadeea led for 34,000,000 and was called. An off-suit trey on the turn saw andreeadeea slow down and check-call a 55,400,000 bet. A five on the river was a brick, and andreeadeea checked again. IRKPOKERMAN took the bait and jammed in the 183,852,643 stack they had behind, and andreeadeea made one of the easiest calls of his career.
andreeadeea walked away with the title of champion plus $438,499 in cash, leaving IRKPOKERMAN to console themselves with a still massive $428,438 runner-up prize.