November 26, 2021
Calum Grant
It has just been announced that PokerStars have had to make the unfortunate decision to postpone this month's EPT Prague due to recent restrictions put in place by the Czech Republic government. This is due to growing coronavirus crisis in the country and wider Europe.
The European Poker Tour (EPT) event, which was due to start on Wednesday, December 8 will now go ahead at a later date when it is safe to do so. PokerStars declared that they must follow the guidance of the government and put the safety of it's staff and players as a top priority.
Details regarding players refunds can be found on the PokerStars blog, which released the statement.
@Franchi2b Hello Pierre-Jean. We are currently reviewing the ongoing situation in the Czech Republic and will be fo… https://t.co/d3nO573abb
— PokerStars LIVE (@PokerStarsLIVE)
The announcement came just a few hours after PokerStars LIVE tweeted they were reviewing the ongoing situation.
Czech Republic Government Announce State of Emergency
On Thursday, November 25 the Czech Republic government announced a State of Emergency due to the growing number of coronavirus cases in the country. It was reported that there were over 25,000 new cases on Wednesday, November 24.
This follows similar patterns and comes off the back of bordering nations, Austria and Slovakia, imposing their own lockdowns.
Cultural, sporting and educational events have been imposed with an 1,000 person cap while restaurants and bars will be operating under a 10 p.m. curfew.
EPT Prague 2019: Mikalai Pobal Makes History; Becomes Second EPT Two-Time Champion
Postponement Marks Two Years Without EPT Prague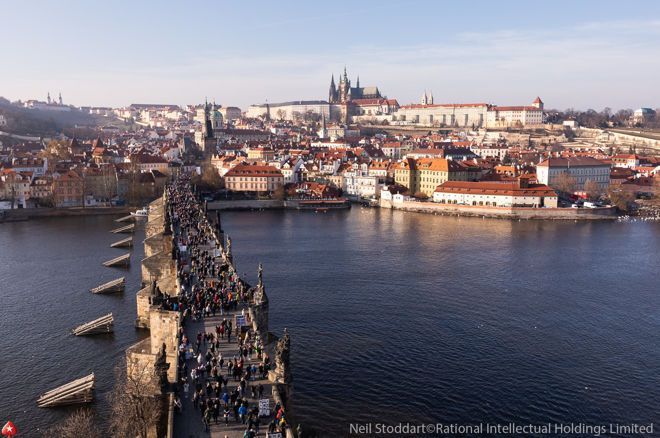 It was only towards the of September 2021 that PokerStars confirmed that the European Poker Tour would be returning to Prague after a two year hiatus.
EPT Prague was scheduled to host several events with the main attractions being the €1,100 EPT National, €5,300 EPT Main Event and €10,300 EPT High Roller.
EPT Prague History
EPT Prague has a rich and storied history dating back to December 2007. Since then, the festival has grown to be one of the most popular stops on the European Poker Tour.
Date
Event
Entrants
Main Event Winner
Country
Prize
Dec-07
EPT Prague
555
Arnaud Mattern
France
€708,400
Dec-08
EPT Prague
570
Salvatore Bonavena
Italy
€774,000
Dec-09
EPT Prague
506
Jan Skampa
Czech Republic
€682,000
Dec-10
EPT Prague
563
Roberto Romanello
United Kingdom
€640,000
Dec-11
EPT Prague
722
Martin Finger
Germany
€720,000
Dec-12
EPT Prague
864
Ramzi Jelassi
Sweden
€835,000
Dec-13
EPT Prague
1,037
Julian Track
Germany
€725,700
Dec-14
EPT Prague
1,107
Stephen Graner
United States
€969,000
Dec-15
EPT Prague
1,044
Hossein Ensan
Iran
€754,510
Dec-16
EPT Prague
1,192
Jasper Meijer van Putten
Netherlands
€699,300
Dec-18
EPT Prague
1,174
Paul Michaelis
Germany
€840,000
Dec-19
EPT Prague
1,154
Mikalai Pobal
Belarus
€1,005,600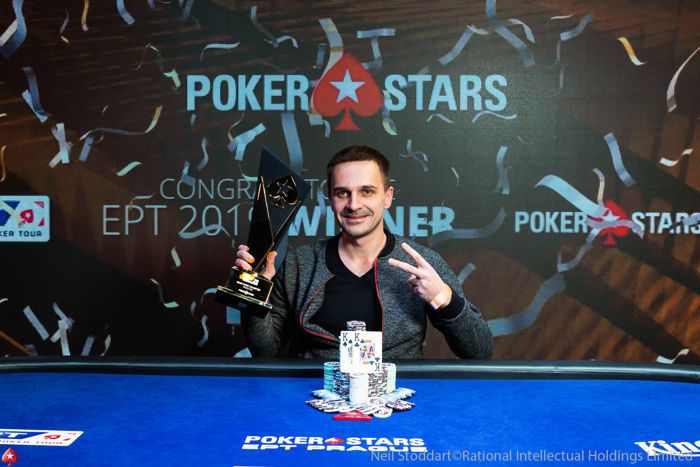 Mikalai Pobal wins the 2019 EPT Prague Main Event
Source link