November 16, 2021
Matthew Pitt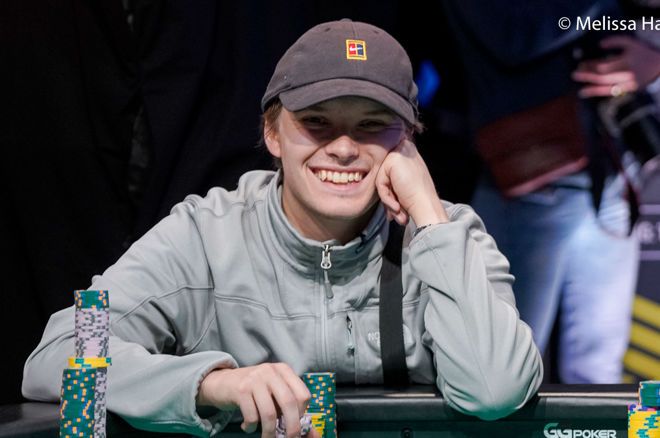 Final Table Profile Jack Oliver
Seat:
3
Chip Count:
34,000,000
Big Blinds:
43
Nationality:
United Kingdom
Twitter:
@jackabet
Jack Oliver's Main Event Story
Jack Oliver is a British grinder who cut his poker chops playing in low buying events in the United Kingdom. Oliver's first recorded live tournament cash was a ninth-place finish in the £275 buy-in UK Student Poker Championships High Roller event back in 2016. He has since amassed $117,414 in live winnings.
Oliver's first WSOP cash came at the 2018 series, doing so in the $1,500 Millionaire Maker event. He won a $4,700 package online that granted travel expenses and a Millionaire Maker entry. Oliver navigated his way to a 359th place finish worth $4,518.
The Brit's second WSOP in-the-money finish came at this year's WSOP. Oliver finished 322nd in the $1,500 Monster Stack for $3,005.
Despite now being a millionaire and having the chance to win the 2021 WSOP Main Event, Oliver feels calm and collected.
"I'm pretty calm, to be honest, we haven't won anything yet. It's a big day tomorrow, so I just want to rest and feel good for tomorrow. There is no one I'm trying to go after, just trying to play good poker that's all."
Oliver started his quest for WSOP Main Event glory like a runaway train, bagging 205,800 chips on Day 1d, which were good enough for 29/1,933. His hot run continued on Day 2abd and Day 3, before losing a little momentum on the subsequent days.
Day 5, for example, saw Oliver drop from 1,878,000 chips to 1,565,000, which placed him 80th of the 96 surviving players. Day 6 was more profitable, in terms of accumulating chips, but he was still only 27/36.
Oliver kept his cool and went from 6,043,000 chips at the start of Day 7 to 30,400,000 by the close of play. He sits down in fifth place and with a legitimate shot of becoming the Main Event's champion.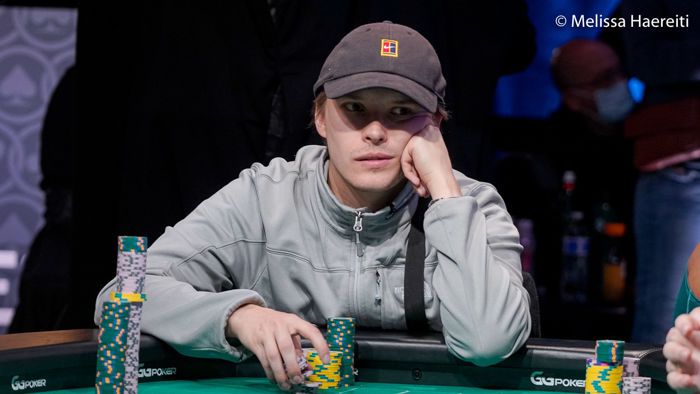 Jack Oliver
Jack Oliver's Key Hands
Saving chips is often more important than accumulating them, and Oliver has already shown he can make disciplined folds. Many players would have gone broke in the spot we are about to recount, but Oliver lived to fight another day.
Ramon Colillas opened to 500,000 at the 120,000/240,000/240,000a level with
, Jareth East called with
, and Oliver called with
in the big blind. Oliver checked on the
flop, Colillas bet 510,000, folding out East, but Oliver stayed in the hand.
Oliver checked the
turn, and Colillas bet his set of nines to he tune of 2,600,000, a bet that Oliver called. Colillas emptied the clip on the
river, putting Oliver to the test for his last 7,900,000. Oliver tanked for five minutes before correctly letting his hand go.
Another key hand saw Oliver double through George Holmes, who shoved for 30 big blinds with
and Oliver called all-in for less with the dominating
. The board ran
to secure Oliver's double, and leave Holmes with 1.5 big blinds. Amazingly, Holmes not only survived to the end of the day, but did so with the second-largest stack in the tournament.
Five Reasons You Need the WSOP App In Your Life
Play for free with the World Series of Poker (WSOP) App with 1,000,000 Free Chips!
How Jack Oliver Got to the Final Table
Day
Chips
Rank
Day 1d
205,800
29/1,933
Day 2abd
417,000
47/1,440
Day 3
1,271,000
25/1,000
Day 4
1,878,000
76/292
Day 5
1,565,000
80/96
Day 6
6,043,000
27/36
Day 7
30,400,000
5/9
What to Watch For
Oliver sits down at the final table in Seat 3, sandwiched between the tournament's two biggest stacks. He has chip leader Koray Aldemir to his immediate right and George Holmes two seats to his left. It is not the ideal scenario for the British star but it does give him the opportunity to accumulate some chips from two players who may splash around a little more than the other finalists.
Several British pros have jetted their way to Vegas to support Oliver at the final table. The likes of Chris Maguire, Euan McNicholas, and Tim Joyner will be present and correct as Oliver attempts to become the first British WSOP Main Event champion since Mansour Matloubi triumphed in 1990. First place prize money was $895,000 when Matloubi won the Main Event, Oliver has already locked up $1 million.
2021 WSOP Main Event Final Table Seating
SEAT
PLAYER
CHIP COUNT
COUNTRY
BIG BLINDS
1
Jareth East
8,300,000
United Kingdom
10
2
Koray Aldemir
140,000,000
Austria
175
3
Jack Oliver
30,400,000
United Kingdom
38
4
Ozgur Secilmis
24,500,000
Turkey
31
5
George Holmes
83,700,000
United States
105
6
Chase Bianchi
12,100,000
United States
15
7
Joshua Remitio
40,000,000
United States
50
8
Alejandro Lococo
46,800,000
Argentina
59
9
Hye Park
13,500,000
United States
17
2021 WSOP Main Event Final Table Payout
POSITION
PRIZE
1
$8,000,000
2
$4,300,000
3
$3,000,000
4
$2,300,000
5
$1,800,000
6
$1,400,000
7
$1,225,000
8
$1,100,000
9
$1,000,000
2021 WSOP Main Event Final Table Player Stats
Player
First Cash
WSOP Cashes
Career Earnings
Biggest Cash
Koray Aldemir
2012
32
$12,344,110
$2,154,265
Chase Bianchi
2007
11
$872,718
$316,920
Jareth East
2011
24
$149,925
$557,648
George Holmes
2019
1
$50,855
$50,855
Alejandro Lococo
2016
3
$118,127
$36,772
Jack Oliver
2016
2
$117,414
$27,047
Hye Park
2012
27
$471,504
$165,715
Joshua Remitio
2018
0
$1,809
$650
Ozgur Secilmis
2013
6
$133,559
$41,645
Stats courtesy of WSOP.com and HendonMob.com.
Sharelines
The UK's Jack Oliver has reached the 2021 WSOP Main Event final table with 30,400,000 chips, enough for fifth place at the restart.