November 14, 2021
Connor RichardsBen LysneTyler ForanDouglas Chase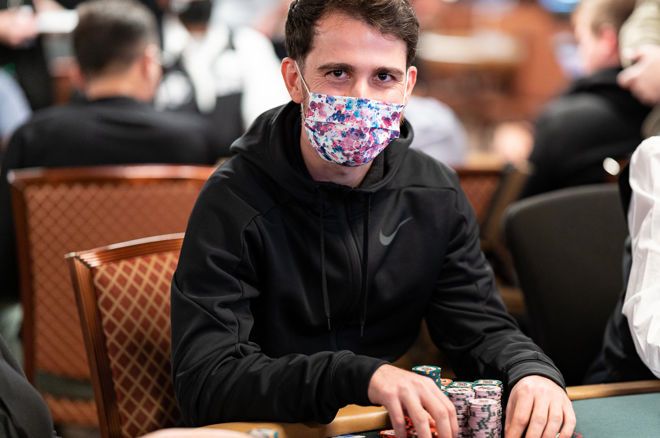 Day 45 of the 2021 World Series of Poker (WSOP) is in the books, and what a day of poker it was. The $10,000 buy-in Main Event saw its field whittled to a much more manageable 96, while the $888 Crazy Eights completed another of its starting flights.
The $1,500 Mixed No-Limit Hold'em/Pot-Limit Omaha event reached its final eight, with the $10,000 Seven Card Stud Hi-Lo 8 or Better Championship completing its Day 1.
Two more players became WSOP bracelet winners. Scott Ball was crowned the champion of Event #68: $1,111 Little One for One Drop, while Mourad Amokrane walked away with the top prize and gold bracelet from Event #71: $1,500 Bounty Pot-Limit Omaha.
2021 WSOP Live Reporting Hub
Follow all the live-action as it happens from the 2021 World Series of Poker in Las Vegas!
Korey Aldemir Leads Stack Main Event After Day 5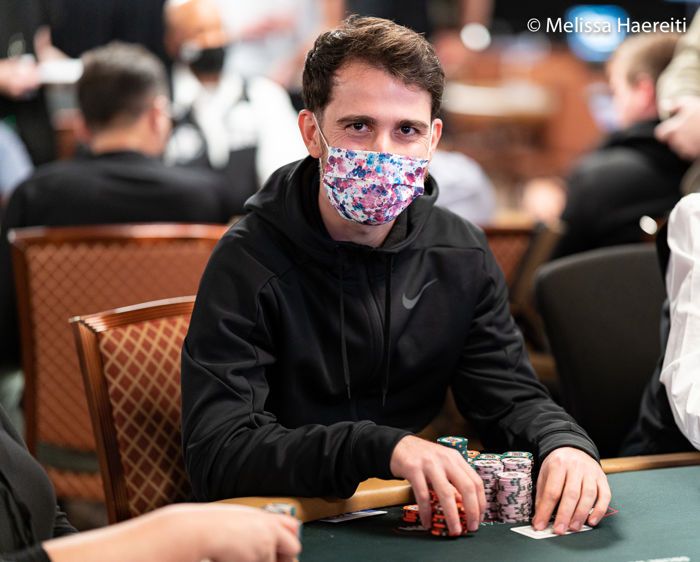 Koray Aldemir
Germany's Koray Aldemir leads 96 players heading into Day 6 of Event #67: $10,000 No-Limit Hold'em Main Event Championship at the Rio All-Suite Hotel and Casino as part of the 2021 World Series of Poker. Day 5 began with 292 players looking for Main Event glory and wrapped up after ten hours of play, with Aldemir bagging the chip lead with a stack of 14,325,000.
The German grinder, who has over $3 million in WSOP lifetime earning and is after his first bracelet, leads other big stacks Ramon Colillas (12,000,000), Jonathan Dwek (10,125,000) and Zachary Mcdiarmid (9,700,000). All of them are also on the hunt for a first bracelet.
Day 5 Action
A few of poker's biggest stars survived the day, including one-time bracelet winner Stephen Chidwick, who ended the day with 3,710,000 in chips after doubling late in the evening with ace-jack against the ace-king of George Holmes. Other big names still in contention include Chance Kornuth (5,920,000), Stephen Song (2765000) and Yuri Dzivielevski (2,030,000).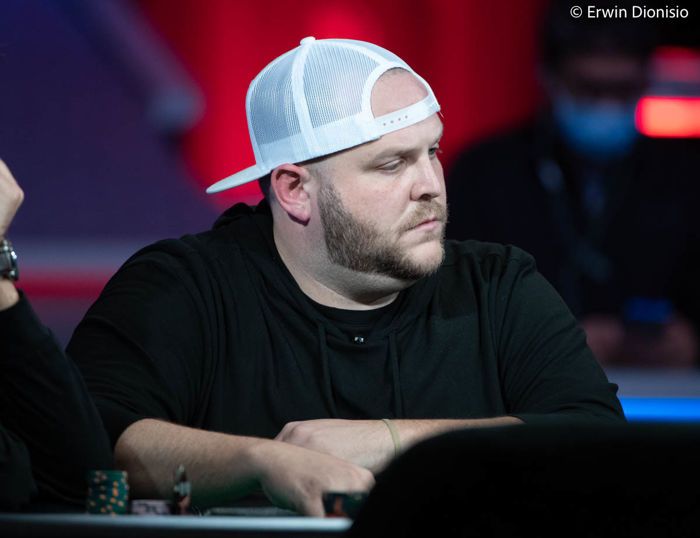 Nicholas Rigby
Pennsylvania grinder Nicholas Rigby made quite a stir on social media from the main feature table with his unorthodox playing style, best demonstrated in two separate hands where he got involved in big pots against all-in opponents while holding deuce-three.
If anyone knows this Rigby guy… all drinks are on me for life. Get him in touch with me.
— Ben Lamb (@BenbaLamb)
This Rigby guy is gonna be fun to watch.
— Haralabos Voulgaris (@haralabob)
"Rigby is like Happy Gilmore! Everyone loves Happy Gilmore. Everyone loves Rigby. Rigby! Rigby!" a member of Rigby's rail shouted toward the end of the night. "Give him a sponsorship!"
Rigby's play worked in his favor, and he ended the day with a stack of 5,212,000.
A New World Champion Will Emerge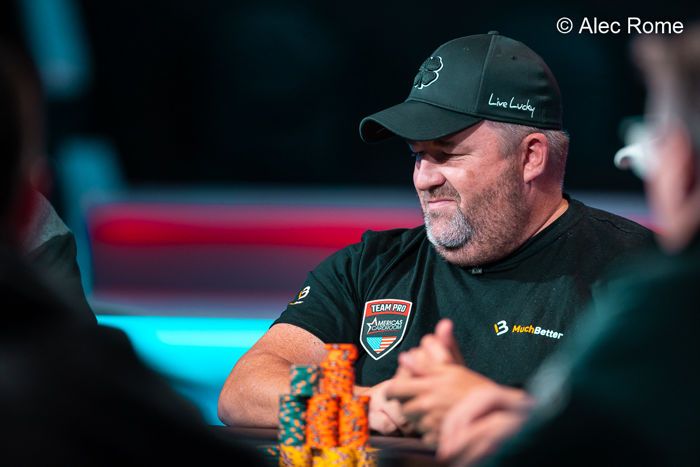 Chris Moneymaker
Chris Moneymaker and Qui Nguyen were both looking to defend their Main Event titles but came up short on Day 5. Nguyen, the 2016 Main Event champion, outlasted the 2003 champ but was eliminated when he moved in with ace-queen and couldn't pull ahead of the pocket eights of Jesse Lonis, who ended the day with 8,995,000 chips.
Other notable players who made it to the fifth day of play but weren't fortunate enough to survive to see Day 6 included Jason Koon, Matt Berkey, Marle Spragg, Conrad Simpson, Ken Aldridge and Joey Weissman.
Day 6 of the WSOP flagship event begins on Sunday, Nov. 14 at noon Pacific Time, kicking off with Level 26 with blinds at 40,000/80,000/80,000.
Event #67: $10,000 No-Limit Hold'em Main Event Top 10 Chip Counts
Position
Player
Country
Chip Count
Big Blinds
1
Koray Aldemir
Germany
14,325,000
179
2
Ramon Colillas
Spain
12,000,000
150
3
Jonathan Dwek
Canada
10,125,000
127
4
Zachary Mcdiarmid
United States
9,700,000
121
5
Jesse Lonis
United States
8,995,000
112
6
Roongsak Griffeth
United States
8,925,000
112
7
Andreas Kniep
Germany
8,515,000
106
8
Tonio Röder
Germany
8,000,000
100
9
Alejandro Lococo
Argentina
7,805,000
98
10
Stephen Gerber
United States
7,700,000
96
Check out all of the WSOP Main Event updates
Arnwine Is The Crazy Eights Day 1c Chip Leader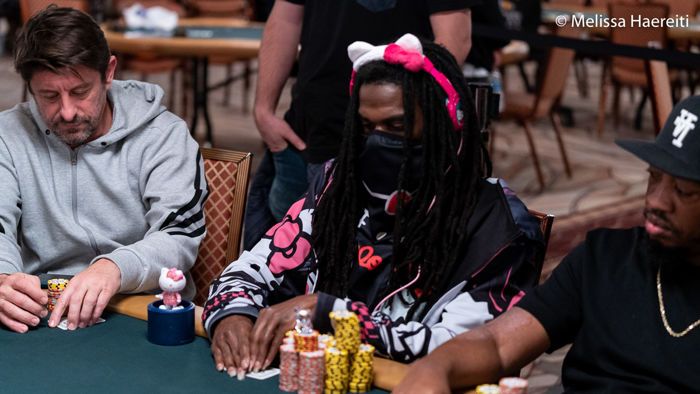 Justin Arnwine
Day 1c in Event #70: $888 Crazy Eights No-Limit Hold'em had come to an end. Day 1c drew a total of 1,907 entrants with 287 players making the money with a minimum payout being $1,421 After a long fourteen hours of play, only 87 players remain.
Among the top stacks are Justin Arnwine (3,280,000), Paul Fehlig (1,880,000), Alex Visbisley (1,775,000), John Jenkins (1,740,000) and Natalie Hof (1,700,000).
Two-time bracelet winner Eric Baldwin (2,825,000) bagged up the second-largest stack in the room, while popular Irishman David Lappin (1,940,000) finished Day 1c third in chips.
This event drew a few other notables such as three-time bracelet winner and Hall of Famer Barry Greenstein, Bracelet winner Kevin Song, Women Hall of Famer Allyn Shulman, Popular YouTube content creator and online bracelet winner Ethan Yau, and the 2004 Main Event Champion Greg Raymer.
Players who bagged Day 1c will return for Day 2 on November 15th at 12:00 p.m in the Amazon room at the Rio All-Suite Hotel & Casino.
Day 1d, the final flight of this event, shuffles up and deals at 12:00 p.m. local time on November 14, and those entrants will battle out over 22 levels.
Event #70: $888 Crazy Eights Day 1c Top 10 Chip Counts
Place
Player
Country
Chips
1
Justin Arwine
United States
3,280,000
2
Eric Baldwin
United States
2,825,000
3
David Lappin
Ireland
1,940,000
4
Paul Fehlig
United States
1,880,000
5
Wayne Harmon
United States
1,800,000
6
Alex Visbisky
United States
1,775,000
7
John Jenkins
United States
1,740,000
8
Alan Ferraro
Italy
1,710,000
9
Natalie Hof
Germany
1,700,000
10
Kharlin Sued
United States
1,675,000
Feast your eyes on the Crazy Eights action right here
Rafael Mota Is In Pole Position For Glory in the $1,500 NLHE/PLO Mix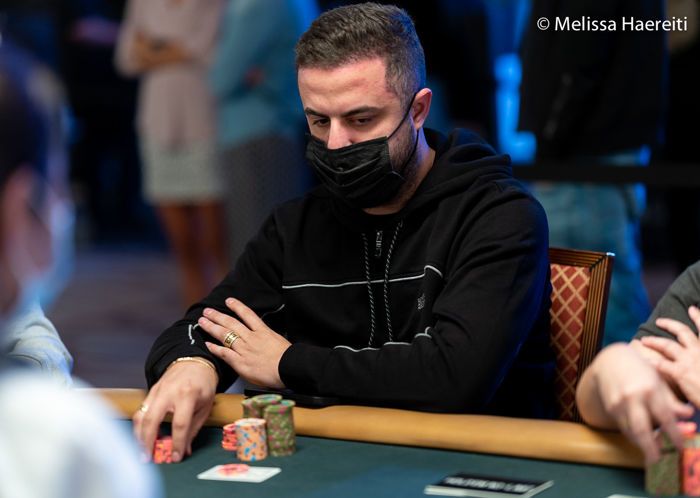 Rafael Mota
A total of 126 players returned for battle on Day 2 of Event #72: $1,500 Mixed No-Limit Hold'em/Pot-Limit Omaha returned to the Amazon room at the Rio All-Suite Hotel and Casino, and after ten levels of play only eight hopefuls remain.
Leading the way heading towards the gold bracelet is Rafael Mota with 7,515,000, almost double the next closest Motoyoshi Okamura with 3,835,000. Nick Yunis is right on Okamura's tail with 3,190,000.
The day was action-packed right from the get-go as 126 remaining players turned into just 50 players in the first couple of hours of play. Mota had gotten chips early as he made it to the final three tables with a total of 2,700,000 and managed to keep climbing, reaching the final two tables with 4,560,000.
World Series of Poker bracelet winner Mike Takayama is also still in contention, looking to claim his second bracelet with a total of 1,900,000 in chips. Takayama won his bracelet in 2018, taking down the 2,065 player field in Event #59: $1,000 No-Limit Hold'em Super Turbo Bounty. With this victory, he claimed the grand prize of $198,568.
Not all champions were lucky enough to survive through Day 2, though, including Andrew Donabedian finishing in 24th place, four-time bracelet winner Josh Arieh in 40th place, Manig Loeser in 45th Place, and Joao Vieira in 50th.
Day 3 will resume at 2:00 p.m. with the eight remaining players having $20,737 locked up and playing for the grand prize of $209,716. Play will continue until there is a new champion is crowned. Blinds will resume at 30,000/60,000 with a 60,000 big blind ante.
Event #72: $1,500 Mixed No-Limit Hold'em/Pot-Limit Omaha Top 10 Chip Counts
Place
Player
Country
Chips
1
Rafael Mota
Brazil
7,515,000
2
Motoyoshi Okamura
Japan
3,835,000
3
Nick Yunis
Chile
3,190,000
4
Leonid Yanovski
Israel
2,070,000
5
Mike Takayama
Philippines
1,900,000
6
Jordan Spurlin
United States
1,740,000
7
Marc Lange
Germany
535,000
8
Tim Grau
Austria
360,000
Don't miss any of this mixed event's action
Benson Is The Man To Catch in the Stud Hi-Lo Championship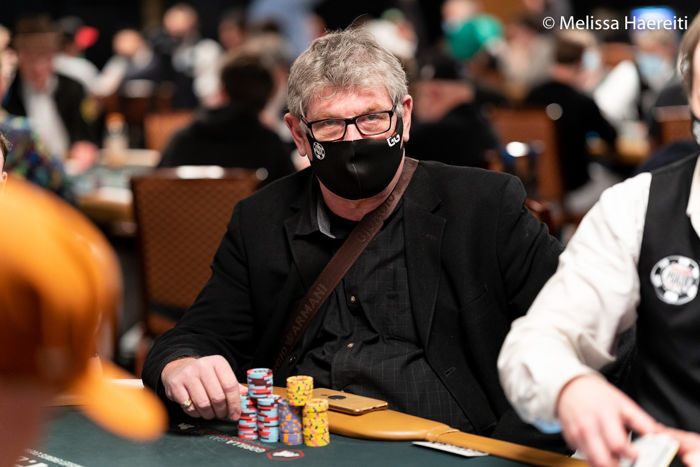 Gary Benson
Day 1 of Event #73: $10,000 Seven Card Stud Hi-Lo 8 or Better Championship has concluded.
This first day of this championship event drew 136 entries with 80 returning for the penultimate day on Sunday at 2:00 p.m. local time (PST). Expect that number to rise slightly as late registration is open until the start of Day 2.
The first day of this championship event played as expected, with many notables bagging and tagging up for Day 2.
Leading this star-laced field is Gary Benson who bagged up 331,000 chips and will look to use that ammunition to position himself at the finale of this championship event.
Still in the hunt and always a factor is bracelet owners Shaun Deeb, Erik Seidel, Brandon Shack-Harris, and Yuval Bronshtein. These players will each be looking to secure a spot at this WSOP championship final table in search of that coveted gold bracelet along with the first-place cash.
Those that were not as fortunate include Daniel Negreanu, Allen Kessler, Phil Hellmuth, Felipe Ramos, and John Esposito who all hit the rail before the day's end.
The players will return for Day 2 on Sunday afternoon to play seven 90-minute levels with a ten-minute break at the end of each level, and a 60-minute dinner break at the end of level 14 (~8:30 p.m.).
Event #73: $10,000 Seven Card Stud Hi-Lo 8 or Better Championship Top 10 Chip Counts
Place
Player
Country
Chips
1
Gary Benson
Australia
331,000
2
Adam Owen
United Kingdom
289,500
3
Denis Strebkov
Russia
274,000
4
Eli Elezra
Israel
263,000
5
Shaun Deeb
United States
256,000
6
Scott Seiver
United States
256,000
7
Alex Livingston
Canada
215,000
8
Mike Watson
Canada
207,000
9
Brett Richey
United States
187,500
10
Yuval Bronshtein
Israel
183,500
Discover if Benson can go all the way in the Stud-8 Championship
1 2021 WSOP Day 1: Series Underway With Star-Studded $25k H.O.R.S.E.
2 2021 WSOP Day 2: Hellmuth In The Hunt For 16th Bracelet
3 2021 WSOP Day 3: Drinan On Course For His Second Bracelet
4 2021 WSOP Day 4: Cornell In Pole Position For First Bracelet
5 2021 WSOP Day 5: Negreanu, Matusow, Seidel, and Hellmuth Advance in the $10K LO8 Championship
6 2021 WSOP Day 6: Phil Hellmuth Chasing 16th Bracelet Deep in the $10K LO8 Championship
7 2021 WSOP Day 7: Hellmuth Four Players Away From Bracelet #16
8 2021 WSOP Day 8: Deeb Looking For Bracelet #5
9 2021 WSOP Day 9: FiveThirtyEight's Nate Silver Headlines $10K Limit Final Table; Racener Leads
10 2021 WSOP Day 10: Brian Yoon Hunting for Fourth Bracelet
11 2021 WSOP Day 11: Hellmuth In The Hunt Again; Reaches Another Final Table
12 2021 WSOP Day 12: Negreanu Hunting for Seventh Bracelet
13 2021 WSOP Day 13: Five Left in Milly Maker; Marle Cordeiro Among Last 17 in Ladies Event
14 2021 WSOP Day 14: Vanessa Kade Racks Up Fifth Cash of the Series
15 2021 WSOP Day 15: Zinno On Course For Fourth Bracelet
16 2021 WSOP Day 16: Kornuth Reaches Back-to-Back $10K Short Deck Finals
17 2021 WSOP Day 17: Phil Hellmuth Hunting for 16th Bracelet with 10 Remaining in $1,500 NL 2-7 Lowball
18 2021 WSOP Day 18: Elezra in the Mix For His Fifth Bracelet
19 2021 WSOP Day 19: David "Bakes" Baker Hunting for Third Bracelet at $1,500 Triple Draw Final Table
20 2021 WSOP Day 20: Friedman After a Three-Peat as Negreanu and Hellmuth Advance to Final 10 in $10K Dealer's Choice
21 2021 WSOP Day 21: Addamo Flying High In Yet Another High Roller
22 2021 WSOP Day 22: Arieh Positions Himself For Bracelet #3
23 2021 WSOP Day 23: Gerhart, Johnson, and Shack-Harris Seeking Third Bracelets with Five Remaining in $10K H.O.R.S.E.
24 2021 WSOP Day 24: JC Tran Flying High in the $10K PLO
25 2021 WSOP Day 25: Elezra and Matusow Hunting for Fifth Bracelets in the $10K PLO Championship
26 2021 WSOP Day 26: Soverel Leads the Charge in the NL 2-7 Single Draw Championship
27 2021 WSOP Day 27: Glaser Leads Final 8 $10K NL 2-7 Championship as Negreanu Alive Hunting for Seventh Bracelet
28 2021 WSOP Day 28: Stars Turn Out For $25K PLO High Roller; Deeb Flying High
29 2021 WSOP Day 29: Lamb Registers Late In $25K PLO and Bags Lead
30 2021 WSOP Day 30: Ka Kwan Lau On Course For $25K PLO Bracelet
31 2021 WSOP Day 31: Kolev Leads the $10K 6-Handed NLHE Championship
32 WSOP 2021 Day 32: Yockey Bags $50k Poker Players Championship Day 1 Chip Lead
33 2021 WSOP Day 33: Volpe and Cates Lead Final 35 of the $50K Poker Players Championship
34 2021 WSOP Day 34: Ryan Leng Leads Final 10 in the $50K PPC
35 2021 WSOP Day 35: Eli Elezra Leads Final 5 in the $50K Poker Players Championship
36 2021 WSOP Day 36: Main Event Underway, Brunson Up to Old Tricks
37 2021 WSOP Day 37: Three Bracelet-Winners Crowned as Main Event Continues
38 2021 WSOP Day 38: Aleksandr Shevlyakov Bags Overall Chip Lead on Day 1c of the Main Event
39 2021 WSOP Day 39: Main Event Breaks Through 4,500 Entrants; Ajayi Tops Counts
40 2021 WSOP Day 40: Joe Hachem Back in Form on Day 1e of the Main Event
41 2021 WSOP Day 41: Rameez Shahid Leads Main Event as Phil Hellmuth Makes Grand Entrance
42 2021 WSOP Day 42: Main Event Whittled to 2,362 Players
43 2021 WSOP Day 43: Jessica Cai Leads After Main Event Bubble Bursts
44 2021 WSOP Day 44: Ramon Colillas Bags Day 4 Chip Lead in WSOP Main Event
45 2021 WSOP Day 45: Aldemir Claims Main Event Chip Lead